The Friends & Stewards of Dorchester Park
The Friends & Stewards of Dorchester Park are a grass-roots group of volunteers dedicated to restoring, maintaining, and protecting nearby nature in their local city park for the mutual benefit of present and future generations of community members including humans, and the native flora and fauna dependent on this urban habitat.
The stewardship group operates as an official member of the City of Brampton's Adopt-A-Park program, and is supported by contributions from community members, a consulting Ecologist, and the City of Brampton.
Brampton Horticultural Society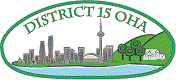 The society is a non-profit organization serving the City of Brampton, Ontario, and a member of the Ontario Horticultural Association (OHA), District 15.
The Society's Mission: "To promote the joy of gardening, flower arranging and other horticultural endeavors through sound environmental practices."
---
Biking in Brampton Builds Our Community
BikeBrampton is a volunteer group that encourages, promotes and advocates for increased safe cycling in Brampton and Caledon. Our goal is for more people to cycle or walk for shorter trips instead of using cars to get around. It's better for the environment, it's better for our community. And, it's better for YOU!
We want Brampton to be a Silver Bicycle Friendly Community, as awarded by Share the Road Cycling Coalition. Help us on our journey. We invite you to subscribe to our newsletter, get involved in our monthly meetings, leave us comments, come out to our events, or volunteer on our committee.
Sierra Club Peel Group is a group of concerned citizens who volunteer on environmental campaigns and conservation projects within Peel Region. Our aim is to educate and empower Peel residents to be defenders and stewards of our natural environment. Five project areas we are working on:
Protecting Water and Wildlife
Promoting Sustainable Low Impact Development
We hold monthly meetings in Brampton. We are always ready for new visitors members, volunteers and perspectives! For further information, contact Rosemary at prmkeenan@gmail.com
---
Human Impact Environment
Human Impact Environment a community organization working to engage youth in overcoming environmental challenges.
Mission: improve environmental sustainability in the Peel Region through education, action and Youth empowerment.
Vision: to create educated and empowered environmental leaders and build environmental literacy in our community.
Email humanimpact.env@gmail.com or follow @humanimpact.env on Instagram
Heart Lake Run
Heart Lake Run is a not-for-profit that champions Good Health, Food Security, Environment Conservation & Climate Action
---
People Against Littering
Our Mission: To unite, inspire, and embolden citizens and communities to take action against litter and littering.
Our Vision: A litter-free Brampton by 2023
Interested in how we're achieving our vision? Learn more.
Bee City Canada
Our Mission: to inspire cities, towns, First Nations, schools, businesses and other organizations to take action to protect pollinators.
Visit our website for more information about our organization
---
Heart Lake Turtle Troopers
Mission: Support the protection and monitoring of the local turtle population by working with community stakeholders to raise awareness and empower volunteers and organize public engagement activities.
Interested in learning more about our local native turtles, or in volunteering to become a Heart Lake Turtle Trooper?  Follow our FB page or join our FB group!